Join the tradition while supporting a great cause
The Opening Day of the Salmon fishing season is always eagerly awaited and the Opening Ceremony is a traditional event much enjoyed by anglers and non anglers alike. Meikleour Estate will be organising and hosting a popular fund-raising Opening ceremony on behalf of the Tay District Salmon Fisheries Board and The Perthshire Chamber of Commerce.
The event takes place on the 15th of January, 9am for 9:30am and singer/song-writer Dougie MacLean will be the guest of honour, performing the first symbolic cast of the year. The Provost of Perth will also take part in the ceremony and Pipe Major Alistair Duthie and his junior pipe band will lead the anglers to the River. The ceremony will take place by Kinclaven Bridge PH1 4QW.
If you would like to join and fish on Opening Day you need to pre-register by e-mail to bm@meikleour.com. Update Dec 5: the event is currently fully booked but we have a waiting list and cancellations do happen. The estate will send you an invite to fish (with all necessary information) and this invite will need to be stamped by and AFYD volunteer on the day while collecting your donation (£10 is suggested but if you can do a bit more that would be marvelous). There is always a great chance of catching a springer on the day and taking part in the Redford Trophy (biggest springer caught on the Tay on opening day).
A poster of the event is available here , we will be filling adding logos of our sponsors as lots for the raffle are being donated.
On the day the fishing on our beat is donated to the local hub of the youth development charity AFYD, and AFYD volunteers directly issue fishing tickets for a donation, ensuring that all the money raised goes straight to the charity. Additional money is raised through a raffle, with prestigious lots generously given by supporting partners (by alphabetical order: Bentley Motors, Dewar's Distillery, Fishpal, Greys, Hardy, Kate Fleming S&F, Pol Roger Champagne... ). Last year AFYD East Perthshire raised £2600 in the morning of the Opening ceremony.
That sum is enough to cover the running of the hub for 1 full year and allows school children in our community to participate twice a week fishing or fishing related activities. It covers insurance, servicing of life jackets, equipment, training of volunteers and coaches, running cost and maintenance of the AFYD hut and to repair a wheel chair friendly boat.
** For latest news check our Facebook and Instagram Accounts **
AFYD
Meikleour Fishings and Meikleour Arms support our local branch of AFYD. Read why we love this charity.
Read
Charitable Work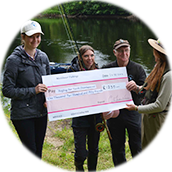 The beat is proud to support several youth development charities and engage with local schools
More