Using our beat for local charitable causes
For hundred of years Salmon Fishing has been an essentiel part of our rural economy, salmon fishing is in the DNA of our village and we believe that well run salmon fisheries have an essential role to play in their local community. From maintaining and creating paths, making sure river banks are safe, sowing wild flowers... providing idyllic walks for everyone, fishers and non fishers, to enjoy.
We like to go a little bit further by teaming up with local youth charities and schools for educational purposes, encouraging young people to learn about the ecology of the river and spending some healthy time learning how to fish.
We focus our charitable work on local youth education with the Tay at its heart:


- We donate the fishing on Opening Day to our local branch of Angling for Youth Development and organise a raffle for them with the help of prestigious brands. By selling fishing and raffle tickets during the event AFYD raises enough funds to secure the running or the East Perthshire hub for a full year. That means that twice a week (Wednesday and Saturday) local school boys and girls will enjoy fly-tying, river and loch fishing, entomology etc... in a safe and secure environment with trained volunteers. It works a treat for us as during the trout fishing season the children are proud to provide our chefs at the hotel with lovely rainbows and brownies.
- We give AFYD the right to fish for salmon on our Isla beat whenever is convenient for them, offering safe fly-fishing water and opportunities to observe the most incredible wildlife.
- We organise "Hens and Bairns" (mums & kids) day teaching children together with their mums/grannies/aunties, promoting trout and salmon fishing as a great family hobby that can be enjoyed by everyone. This is done in collaboration with educational charities like AFYD or SYSET.
- We welcome school visits or visit schools, integrating the life of the Tay salmon into the curriculum. We have even welcome school children from Greenland and have volunteered in a salmon conservation school project in Finland through the charity Countryside Learning Scotland.
- We are also delighted when we can help individuals who have been fighting a life threatening illness and have been supporting (and look forward to supporting) cancer charities putting fishing at the center of the healing process.
- Finally our owner chairs the educational development charity The Caroline Fitzmaurice Trust, established in 1989 by his grandfather George Lansdowne, a terrific salmon angler. The purpose of the trust is to support financially talented individuals in the Tay counties (young athletes, community champions, artists...) to allow them to reach their full potential.
** For latest news check our Facebook and Instagram Accounts **
AFYD
Meikleour Fishings and Meikleour Arms support our local branch of AFYD. Read why we love this charity.
Read
Tay Season Opening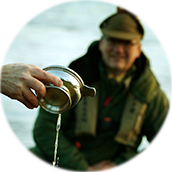 We are delighted to host the Opening of the Tay Salmon Fishing Season Ceremony with Perth & Kinross Council. Join us for this popular fund-raising day.

More
Trophies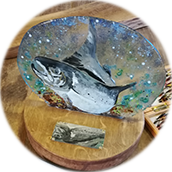 The beats is proud to run the John Moses Trophy and to present the iconic Malloch Trophy Winner in collaboration with the Tay Rivers Trust.
Explore
Trout & Grayling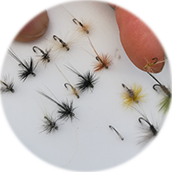 The beat sells trout and grayling tickets on the Tay and the Isla. Flyfishing only and conditions apply.
More
Charitable Work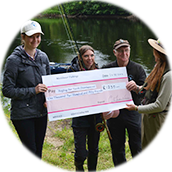 The beat is proud to support several youth development charities and engage with local schools
Look